Block House nearby National Park Bavarian Forest

special for people that have problems with an allergy:

none smoking bungalow, no pets allowed *)
*)Starting April 2004 we own a second non smoker's house - pets allowed House 8
Smokers may ask us for a neighbours house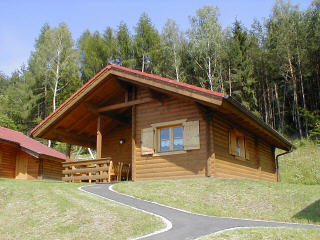 Where
>>> The block house is situated in Europe, Germany, Bavaria, National Park Bavarian Forest nearby the village Stamsried. See map (last picture): Stamsried
Details
Wooden block house in dwelling house quality nearby the National Park Bavarian Forest. The bungalow is available for the whole year. It is situated within a small car-free residence (25 houses + reception building) on a hill at the edge of a forest. Every house is a fully separated operative flat, well equipped  for up to 5 persons with a living room, two bed rooms, kitchen, bathroom with shower and terrace.
The Rooms

Living room with dining room, studio couch, phone, radio with MC + DVD player, Sat-TV, Internet (WLAN)

Parent's bedroom with double bed, big wardrobe

Second bedroom with 3 loft beds, wardrobe, table and 2 chairs

Kitchen with refrigerator, Ceran cooking field, backing oven, dishwasher, microwave, coffee-maker, toaster, handheld mixer, water cooker, feeding-bottle heater, dishes for up to 8 persons.

Bathroom   (daylight) Shower, WC

Terrace Romantic place, integrated under the houses roof with wooden garden furniture

Reception building with sauna, solarium, washing machine, dryer (each against fee).

Children's play ground

Freetime, sports  (all close to but not within the residence)
Tennis court (+ indoor), in-line roller hall, walking, hiking, cross country skiing, down hill skiing (25 km), by-cycling, canoeing, fishing, golf, miniature golf, training path, geological + forest nature trail, Kneipp's cure, Kuernburg Castle and brandnew since 2006 a biologial regenerated naturbath within the historical palace garden of Stamsried. Entrance free to our guests!

The prices
weekly prices, heating, electricity, water and final clean-up included. Within peak seasons 7 day's stay minimum.
Off peak seasons: 2 day's 45% of weekly rate, 3 day's 56%, 4 day's 67%, 5 day's 78%, 6 day's 89%

Special services, extras
rent of linen, towels etc, baby bed, baby chair
   Contact:   You want to contact us? Feel free to ask us what you want to know.
Please inform us      > if  you                     
a) need our special allergic persons friendly house or
b) one of our neighbour's houses or
c) if you have no preferences
> about the time-frame you want to rent 
> with how many  people you will arrive and
> whether you want extras.
We need your complete postal address for reservations. You will get confirmation and invoice  via mail.
Back to homepage Block House Summer House Stamsried National Park Bavarian Forest